Students are strongly encouraged to wear school uniform.  School uniform allows staff to easily identify Mypolonga Primary School students when on excursions and creates a sense of pride in the community.  Colours for clothing items are black and gold.
Sunsmart Policy
The school has a Sunsmart Policy where students are expected to wear appropriate clothing ie. shirts with collars, elbow length sleeves and longer style shorts and skirts.  Sunscreen is supplied in all classrooms.
Hats
Gold bucket or legionnaire style hats (pictured above) are available to purchase from the school office and must be worn by students whenever they are involved in outdoor activities, except during Term 2.  During this term,  UV levels are generally below 3, and the chances of skin damage from the sun is low.  However, when attending excursions during Term 2, the wearing of school hats by students will be at the discretion of classroom teachers. Baseball style caps are not supported by the Cancer Council of SA, so are not classed as "appropriate hats".
 Further information can be obtained from the school's Sunsmart Policy.
Items available to purchase from the school front office:
. Iron-on transfers (available in black and gold) $2.20 ea
. Dress fabric $8.00 per metre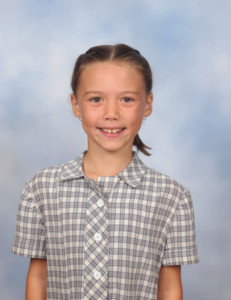 . Dress patterns (in a range of sizes) are available to borrow – a $10.00 refundable deposit is required
. Buttons for school dress .35c ea
School hats
. legionnaire $5.00 ea
. bucket $7.00 ea
School bag with the Mypolonga Primary School logo $43.00 ea
T-shirts, Jackets & Jumpers
Black and gold t-shirts, jackets and jumpers (with the option of our school logo) may be purchased from Intersport (Murray Bridge Marketplace ph: David 0409096263) or Red Dragon Embroidery (2441 Mannum Road, Murray Bridge ph: Anne 0406291030).
T-shirt with logo $30.00 / without logo – $20.00
Hoodie with logo $40.00 / without logo – $32.00
Jacket with logo $40.00 / without logo – $32.00
Both suppliers have a range of black hooded jumpers and jackets (with gold detail) to order from.
Second hand Uniform Items
The school stocks second hand uniform items.  A few items have been kindly donated by families, which are available to purchase at a reasonable price through the office. The proceeds of all donated items will go towards our SRC.  If you have any items, which you would like to donate, or would like to see what items are available to purchase, please see the office staff.
Footwear
Please be mindful of the need for school shoes to be flexible for easy physical activity.  It is recommended that they be strong, have a back in them for protection, and fit snugly so they don't come off when your child is physically active.  This will assist your child to be successfully and safely involved in all daily physical activity.
Badges
All students are provided with badges stating the school's name and the student's first name only.  Badges are worn when going on excursions, when we have visitors and new relief staff to the school and during school shop time.  SRC representatives are provided with badges during their time on the committee.  House/Vice Captains are provided with a badge, when elected.  School Shop Quality Assurance badges are provided to Upper Primary students when the required number of "excellents" is reached.
Lost Property
Lost property is placed in the "lost property box" located in the administration area.  Before, during and after assemblies, the lost property box is located outside the office door in order for the items to be found a "home". At the end of every term, remaining items are washed and donated to our SRC secondhand clothing box or to a local charity.
PLEASE REMEMBER TO LABEL ALL ITEMS BROUGHT TO SCHOOL!